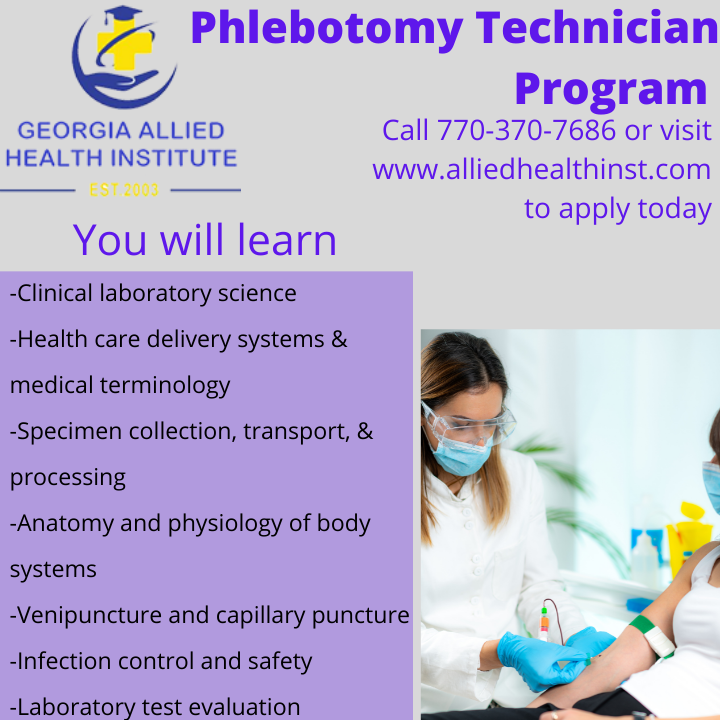 The student will be trained to perform a variety of blood collection methods using proper techniques and precautions including: vacuum collection devices, syringes, capillary skin puncture, butterfly needles and blood culture specimen collection on adults, children and infants. Emphasis will be placed on infection prevention, proper patient identification, proper labeling of specimens, and quality assurance. Students will be taught specimen handling, processing and accessioning.
Program Objectives
-The interpersonal skills needed to interact with others.
-An introduction to health care professions with emphasis on clinical laboratory science.
-Demonstrate knowledge of the health care delivery system and medical terminology.
-Demonstrate knowledge of infection control and safety.
-Demonstrate basic understanding of the anatomy and physiology of body systems. -Associate the major areas / departments of the clinical laboratory with the laboratory tests ordered to evaluate a patient's pathologic condition / illness.
-Demonstrate understanding of the importance of specimen collection in the overall patient care system.
-Demonstrate knowledge and use of collection equipment, various types of additives used, special precautions necessary substances and pre-analytical variables that can adversely affect the blood sample and/or interfere in clinical analysis of blood constituents.
-Demonstrate proper techniques to perform venipuncture and capillary puncture.
-Demonstrate understanding of requisitioning, specimen transport and specimen processing.