Georgia Allied Health Institute – Excellence in Education Since 2003GAHI
Medical Assistant Program
The Medical Assisting (MA) student will be trained to perform at a minimum entry level in positions normally available in a medical facility such as physicians', chiropractors', or podiatrists' offices and clinics.  The program provides the MA with entry-level theory and limited "hands-on" training in basic and routine clinical and office tasks. This will equip the MA with the competencies required to perform in either a clinical or office capacity. The graduate will be able to assist in EKG, X -ray procedures, first aid, and phlebotomy.  He/She will be able to perform clinical procedures, preparing the patient for physical exams, and assisting the physician with other exams. The MA may help the physician with minor surgical procedures and can sterilize and care for instruments. The MA possesses a thorough understanding of health-related ethics and other business principles that bear on the practitioner's relationship with the patient.
All prospective students must complete the TABE test and score an 8.0 or higher
Upon completion of the course, the student will be able to perform, the duties of a medical assistant to include:
To qualify for graduation from this program the students must demonstrate competency in each of the skills and successfully complete the externship.   Graduates in this program will be qualified to take the CCMA National Exam and qualify to find entry-level positions in doctor offices, hospitals, and urgent medical facilities.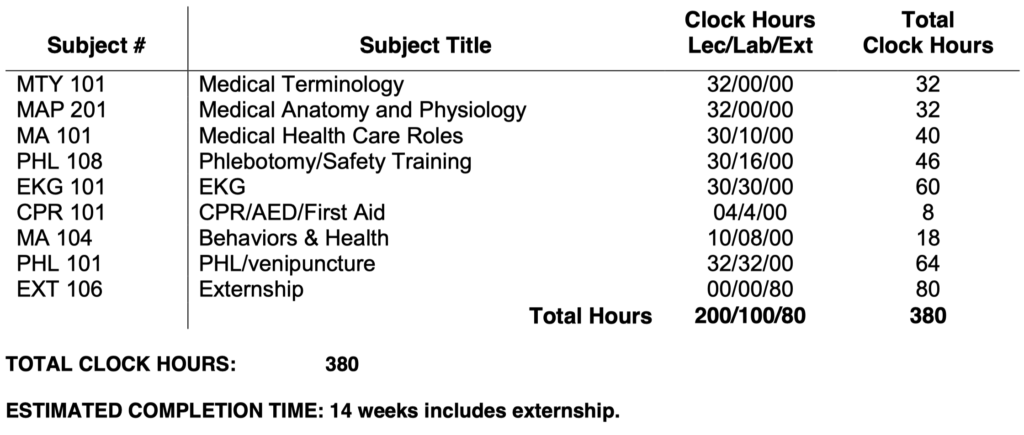 Estimated Completion Time : 14 weeks
*Indicates prerequisite exists. Student must complete the prerequisite course prior to entry into this course of have the instructor's permission to enter the course."
With experience, Medical Assistants can advance into supervisory or management positions.
Average Hour Wage in Georgia